Hey guys! How's your Thursday? (:
Out of the 12 modes, my favourite has got to be the Animated photo mode. You can call it the gif maker if you want . 😛
All you gotta do is to click the capture button… (HOLD REALLY STILL, Or at least rest your elbows on something, or someone)
It will capture up to 5 seconds maximum, but here's a lil' tip from me, don't go more than 3 seconds!
Why? Because if you want to upload it on blogs/tumblr/photobucket and etc, you would want your GIF file to be as small as possible, so it will load faster! (:
Also, it's way easier to edit later.
After you're contented with the video, press the capture button again! It will show this screen, so wait a while. (:
Alright! Now we have a gif file ! (If you stay really put and only 1 subject is moving, the whole picture would look a little darker. Explaining it in the next photo)
You can use your finger and rub off the parts where you want to freeze (Or animate) The darker coloured parts would be the frozen image.
Tip: To make really cool/creepy cinemagraphs, select the most unusual subject to move. I'mma share some really cool cinemagraphs later for inspiration! (:
My mum was helping me, as I snapped the photograph. So she just doodled it a lil..
Can you see the interface?
Top: Undo, Redo, Animate, Freeze, Cancel and Save
Bottom: Trim, Direction
Trimming is to cut your video shorter, or select only certain frames of the video you have captured.
This is how you want your gif to look, how it loops, actually. Back and forth, forward, or backward.
Thanks mummy dearest for her beautiful hands.
~~~
I took a few cinemagraphs today, I was pretty nervous for my presentation..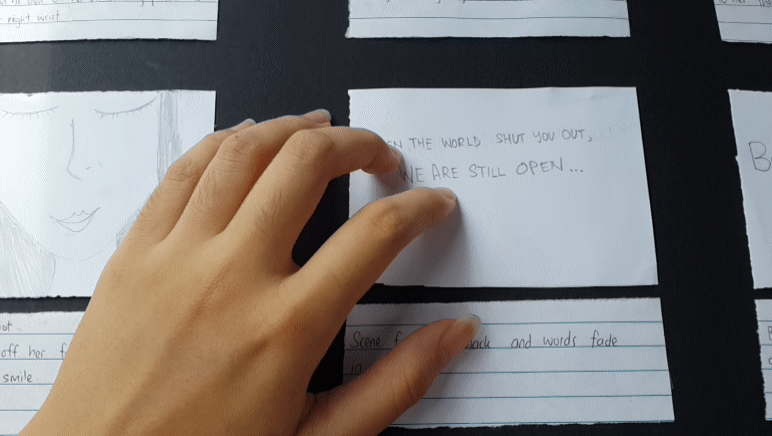 Yes, I suck at drawing, and my words aren't very pretty or neat.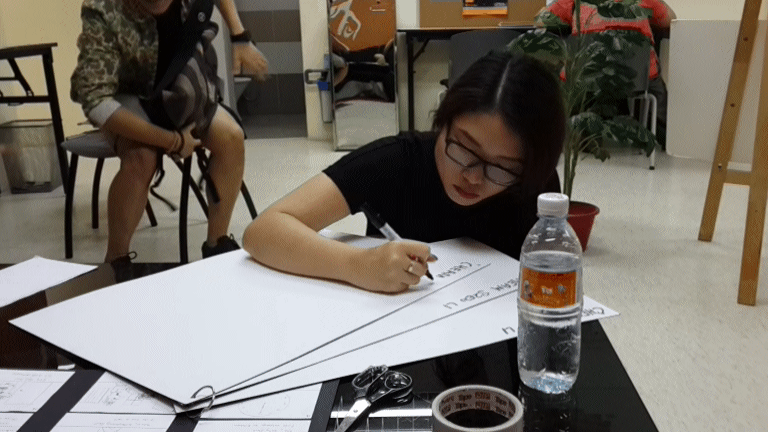 This was pretty funny. Hehh. Mich was writing for everyone's storyboards and Bryan was just fooling around behind her.
Go over to AnnstreetStudio to look at amazing cinemagraphs! Maybe that'll inspire you to make great ones of your own (: